Ichabod
()

- May 27, 2016
Speaker(s)
Mike Abendroth


Mike's passion is preaching the Bible in a verse-by-verse fashion and training other men to do the same. He graduated from The Master's Seminary in 1996 (M. Div.), received his doctorate in Expository Preaching at The Southern Baptist Theological Seminary in May 2006 (D. Min.), and is an adjunct professor at EBTC (European Bible Training Center) and The Master's Seminary (Doctoral Mentor). Pastor Mike is also the author of 

Jesus Christ: The Prince of Preachers (DayOne, 2007)

, 

The Sovereignty and Supremacy of King Jesus (DayOne, 2011)

, 

Things that Go Bump in the Church (Harvest House, 2014),

 

Discovering Romans (Zondervan, 2014), Sexual Fidelity (NoCo Media, 2015) and Evangelical White Lies (NoCo Media, 2016).

 He is overwhelmed at God's grace in his salvation and for his family (Kim, Hayley, Luke, Maddie and Grace). Mike has been the Senior Pastor at 

Bethlehem Bible Church (BBC)

 in West Boylston, MA since April 1997. When not enjoying his family, Mike is often seen on 

this

.
Part of the
NoCo
series (
NoCo
)
---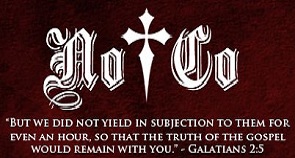 It is a potpourri show today on 
NoCo
. Pastor Mike first goes over some of his philosophy of ministry and how he interacts with new church attenders and what they can expect if they come to 
Bethlehem Bible Church.
 Pastor Mike also discusses the difference between parental and judicial forgiveness, before talking about assurance of salvation. Jesus told the thief on the cross in 
Luke 23:43
 "
Truly, I say to you, today you will be with me in Paradise.
" Do we all need to have Jesus sitting next to us telling us this so that we can have assurance? No! Unlike Roman Catholics (who teach that you can't really know if you're going to heaven or not) the Bible teaches that you can have complete assurance. Read 
1 John 5:2-21
 (specifically focus on v 13): "
I write these things to you who believe in the name of the Son of God that you may know that you have eternal life.
" Assurance is not "Jesus plus ..." it is Jesus alone. By grace alone through faith alone in Christ alone to the glory of God alone this is what we trust in and what comprises salvation, not anything we do that would "add" to the finished work of Christ on the cross. Read the book of Colossians if you are struggling with this truth.
---