As I drove back to Boston from NY during the Christmas holiday season, the billboard sign read, "HAPPY BIRTHDAY JESUS."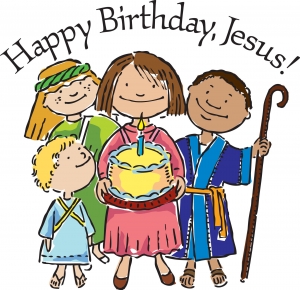 Now many people are bothered that we have replaced Merry Christmas with Happy Holidays.
But for me, saying Happy Birthday Jesus is more disturbing because while it still has the name Jesus in it, it denigrates him to someone like us. How so? For us, birthdays represent the start of our human existence. The day of our birth is when we took our first breath. That is when we began to live.
But Jesus has no beginning. He is the eternal Son. He has always existed. Christmas is not a celebration of His birthday as we celebrate birthdays, but it is the celebration of His incarnation, when He cloaked Himself with humanity.
Read the following portions of Scripture and tell me if you come away from them thinking to yourself, "Happy birthday Jesus." If you do, your Christology is very weak and therefore you have a low, non-biblical view of Jesus, rather than the exalted view of Jesus the Bible portrays.
"though he was in the form of God, did not count equality with God a thing to be grasped, 7 but made himself nothing, taking the form of a servant, being born in the likeness of men."

Philippians 2:6-7
"all things were created through him and for him"

Colossians 1:16b (emphasis mine)
"In the beginning was the Word, and the Word was with God, and the Word was God. 2 He was in the beginning with God. 3 All things were made through him, and without him was not any thing made that was made. …  And the Word became flesh and dwelt among us"

John 1:1-3, 14
Or in the words of Christ Himself
"Jesus said to them, "Truly, truly, I say to you, before Abraham was, I am."

John 8:58
What does the Father, the first member of the Trinity, say about the Son, the second member of the Trinity?
"But of the Son he says,

"Your throne, O God, is for ever and ever,

the sceptre of uprightness is the sceptre of your kingdom.

9 You have loved righteousness and hated wickedness;

therefore God, your God, has anointed you

with the oil of gladness beyond your companions."

10 And,

"You, Lord, laid the foundation of the earth in the beginning,

and the heavens are the work of your hands;"

Hebrews 1:8-10
Note that the Father addresses the Son as "God" and as "Lord". Now that is the biblical Jesus.
The next exit off the highway after the billboard read "Lordship", apparently the name of a town. I thought to myself, now that is more representative of Jesus, the one whose incarnation we celebrate at Christmas. Jesus is Lord. He has always been Lord. He will always be Lord. As the Christmas carol "Silent Night" puts it so aptly, "Jesus Lord at Thy birth."