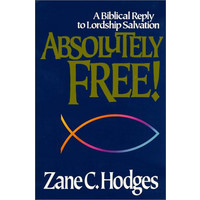 The theological controversy that was stirring back when I was in seminary was the Lordship Salvation controversy. The issue was whether or not submission to Jesus as Lord is a post-conversion thing or part of the essence of saving faith. I recall vividly fellow students asking me what I thought of Zane Hodges book Absolutely Free.
So I was glad when at this year's Shepherd's Conference, during the Q & A panel discussion, John MacArthur mentioned this. It was actually in remembrance of Charles Ryrie, DTS systematic theologian, who went to be with the Lord recently. MacArthur was recalling a time when he had asked Ryrie where Hodges got the idea for the book. Ryrie told MacArthur that Hodges had discipled a guy who had defected from the faith near the end of his life so Hodges let his theology accommodate that difficult personal experience.
So can true believers defect from the faith or will true believers persevere in the faith?
MacArthur understood a similar heartache in his own life. In his book Hard to Believe, he recalls 3 incidents. One was a high school friend. They would evangelise in downtown L.A. and each was the head of their church's youth group. He seemed to be on fire for Christ, but when he went of to college he abandoned the faith. Another was a college friend. They both taught Bible studies and their dads were pastors. They naturally talked about serving the Lord. But he too abandoned the faith. And then there was his best friend from seminary, whose father was a dean. He put a Buddhist altar in his house after he graduated.
I too had a personal experience with a close friend I went to seminary with. We prayed together, studied the Bible together, talked about serving the Lord. Years after we graduated I reached out to him through social media to see how he was doing and I received the following response.
"I have apostatized from 'the church' and put the Bible aside … I do not go to any church or 'study group' and do not plan to ever again either. The last thing I want is any teaching, preaching, instructing or supposed enlightenment from a well-intentioned born again believer. I studied, memorized and read enough Scripture to quote anyone into oblivion. And I have no intention to enter that ring anytime soon."

Friend from seminary
So we must interpret our experience of those who profess faith in Christ and defect through the lens of Scripture rather than allowing the heartache of personal experiences like these cause us to change our theology in order to accommodate them.
First we must understand what is meant by the doctrine of the perseverance of the saints.
"They whom God hath accepted in His Beloved, effectually called and sanctified by His Spirit, can neither totally nor finally fall away from the state of grace; but shall certainly persevere therein to the end, and be eternally saved. This perseverance of the saints depends not upon their own free will."

Westminster Confession of Faith(Chapter 17, Section 1)
Now that does not mean that genuine believers do not sin. Genuine believers can and do commit heinous sins. But they will never ultimately deny the Lord Jesus Christ and they will persevere through any trial.
"In this you rejoice, though now for a little while, if necessary, you have been grieved by various trials, 7 so that the tested genuineness of your faith—more precious than gold that perishes though it is tested by fire—may be found to result in praise and glory and honor at the revelation of Jesus Christ."

1 Peter 1:6-7
Let me give you 3 reasons the Bible teaches the doctrine of the perseverance of the saints.
The character of God
"so that you are not lacking in any spiritual gift, as you wait for the revealing of our Lord Jesus Christ, 8 who will sustain you to the end, guiltless in the day of our Lord Jesus Christ. 9 God is faithful, by whom you were called into the fellowship of his Son, Jesus Christ our Lord."

1 Corinthians 1:7-9
"Now may the God of peace himself sanctify you completely, and may your whole spirit and soul and body be kept blameless at the coming of our Lord Jesus Christ. 24 He who calls you is faithful; he will surely do it."

1 Thessalonians 5:23-24
The faithful character of God preserves the saints to the very end.
"But I am not ashamed, for I know whom I have believed, and I am convinced that he is able to guard until that Day what has been entrusted to me."

2 Timothy 1:12
The omnipotent character of God preserves the saints to the very end because He is able.
"Now to him who is able to keep you from stumbling and to present you blameless before the presence of his glory with great joy,"

Jude 24
Martin Luther knew of this when he penned the great hymn A Mighty Fortress is Our God. Peter said that we are guarded, Greek term for fortress, by God's power(1 Peter 1:5).
God, by His very character, will sustain believers to the very end. He will surely do it. He is able. He will keep them from stumbling. He is a mighty fortress. True believers will persevere in the faith because they are kept by the preserving power of Almighty God.
The Intercessory Work of Christ
"Consequently, he is able to save to the uttermost those who draw near to God through him, since he always lives to make intercession for them."

Hebrews 7:25
This powerful truth is highlighted in Christ's High Priestly Prayer.
"And I am no longer in the world, but they are in the world, and I am coming to you. Holy Father, keep them in your name, which you have given me, that they may be one, even as we are one. 12 While I was with them, I kept them in your name, which you have given me. I have guarded them, and not one of them has been lost except the son of destruction, that the Scripture might be fulfilled."

John 17:11-12
Peter knew first hand of this preserving prayer of Jesus on his behalf.
"Simon, Simon, behold, Satan demanded to have you, that he might sift you like wheat, 32but I have prayed for you that your faith may not fail. And when you have turned again, strengthen your brothers."

Luke 22:31-32
Sovereign Election
"Were the Bible to say nothing of perseverance, what it says about God's electing grace would be sufficient to convince us of the doctrine of perseverance."

R.C. Sproul, Grace Unknown
God's character, His sovereign electing purposes, and the current, ongoing intercessory work of Christ are the biblical foundations for the doctrine of the perseverance of the saints.
"I must confess that the doctrine of the final preservation of the saints was a bait that my soul could not resist. I thought it was sort of life insurance – an insurance of my character, an insurance of my soul, an insurance of my eternal destiny. I knew that I could not keep myself, but if Christ promised to keep me, then I should be safe for ever; and I longed and prayed to find Christ, because I knew that, if I found Him, He would not give me a temporary and trumpery salvation, such as some preach, but eternal life which could never be lost."

Charles Spurgeon